Rafting Tours & Trips
Enjoy rafting tours and trips across the United States, Canada and around the world. Book tickets online or call for assistance with reservations, group bookings and private charter services.
Recommended Tours and Activities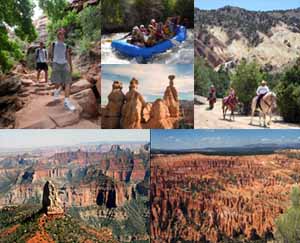 On the Grand Circle 4-Day Multisport Adventure, you'll enjoy a day of whitewater rafting plus ATVs or mountain biking - and spend three more days touring three different national parks where you will have the opportunity to take photographs, sightsee, and do some hiking in these amazing natural areas. As you will undoubtedly discover, each of these destinations provide unique landscapes and in turn unique experiences each as memorable as the other. Explore the Grand Canyon, Zion and Bryce Canyon National Park on our Grand Circle Adventure! It's one awesome adventure!
From: $1,395.95
US Dollars
---